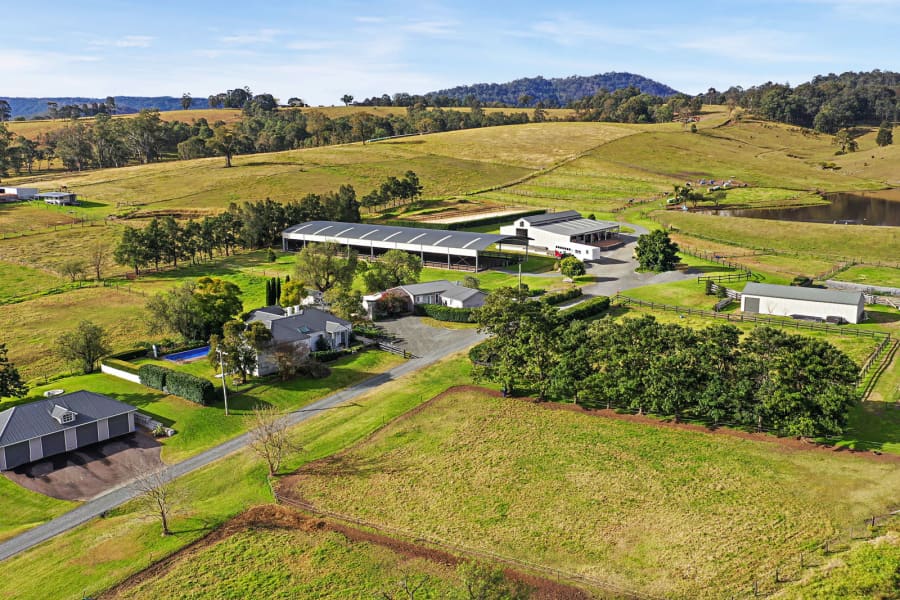 For sale
974 Luskintyre Road, Lambs Valley, NSW, 2335
One-of-a-kind Equestrian or Lifestyle Property
Set in the heart of the Lower Hunter amongst fertile river flats and lush pastured countryside, 'Arlington Park' is a once-in-a-lifetime opportunity to secure a premier equestrian property complete with premium level infrastructure, a fully renovated farmhouse and fantastic rural lifestyle opportunities. Encompassing 141 acres of pasture-improved country, the property features an excellent range of facilities for horse owners, breeders and trainers looking to operate their own business or take their riding to the next level. The property would also be ideal for tree-changers looking to escape the city and retreat to a luxury country oasis where you can enjoy all the traditional rural pursuits. The extensive stabling and infrastructure is perfect for riders wanting to keep their horses at home, while the expansive countryside provides ample opportunities to indulge in the thrills of dirt bike riding, hiking or bird-watching. The large acreage has been divided into more than 30 individual paddocks with water supply and a laneway system for easy access, which more than caters for the horse owners while still offering plenty of space for hobby farmers to bring in some livestock. Horse breeders are sure to appreciate the new American barn-style stable complex, which offers 13 warmblood-sized, fully lined stables including three stallion stables separated by a large main breezeway. The building's flexible layout allows one stable to be converted into a double foaling facility when needed, while all stables feature an automatic water system serviced by two large concealed fresh water tanks that hold a total of 75,000L. A vast parking area can accommodate two large trucks, allowing horses to be loaded undercover, while the four-bay horse wash area includes handheld overhead hose gantries. A large feed room, independent lockable tack room and staff and visitor kitchen complete the stable complex's key features. The freestanding five-bay Colorbond hay shed provides plenty of storage for all your feed with room for the tractor, while a two-bay mare and foal crush with undercover vet room will allow for easy health checks. There is also a floodlit stallion/foaling paddock located close to the main residence and separate groom's quarters. Horse trainers or the avid dressage or showjumping family will have the best of facilities to take their horses through their paces, including a fully fenced 60m x 20m Olympic-sized indoor dressage arena with ELD European synthetic surface, dome roofing and 20m-long mirror at the far end. There is also a 60m x 20m Olympic-sized all-weather show jumping arena with a professional surface that is ideal for open-air training. Suitable as a base for all your equine needs, the property enjoys the added benefit of being incredibly well watered, receiving an average of 35 inches of rainfall per year, which helps to keep up the water levels in the two stock dams and 44 megalitre spring-fed dam. With its Hunter River frontage and 45 megalitre irrigation licence, the property utilises an underground irrigation system with a water main that runs from the riverfront to the main property. The abundant water supply is also used to irrigate approximately eight acres of fertile Hunter River flats, which are ideally suited to growing lucerne and currently produce approximately 1,000 bales per year, ensuring you won't need to purchase additional hay to feed your horses. While its agricultural and equestrian features are enough to please any serious horse owner, the property has plenty of other attractions including a new relocatable two-bedroom guesthouse complete with kitchen, lounge/dining room, combined bathroom and laundry, full-length front verandah and separate double garage. There is also a fully self-contained groom's quarters with a single bedroom, built-ins, living room, kitchenette, shower and toilet. This additional accommodation is located adjacent to the main residence, a 100-year-old post Federation cladded weatherboard farmhouse that has been fully renovated in a beautiful Hamptons style while still showcasing some of the lovely period features. Located in a sheltered valley concealed from the road, the two-bedroom farmhouse offers peace, privacy and a contemporary country style that is sure to please. Bullnose verandahs, restored timber floors in the bedrooms and sitting room and 10ft high ceilings showcase the home's period construction, while ducted air conditioning, a stunning gourmet country kitchen complete with a premium butler's pantry, and elegant ensuite in the large master suite are among the highlights of the luxurious modern makeover. High vaulted ceilings in the open plan lounge and dining room add to the home's sense of space, while its connection to the bullnose verandah, private entertainment and pool area provide seamless indoor/outdoor options for those who love to entertain. A large inground pool in a delightful country garden setting with outstanding views over the property adds to the home's lifestyle appeal, while a separate new fully lined four-vehicle garage provides for all your vehicle storage needs. All are complemented by the manicured lawns, landscaped gardens and an amazing orchard of 50 fully established pecan trees. Centrally located in the picturesque rural area of Lambs Valley, the property provides easy access to the nearby major urban centre of Maitland, while the renowned Hunter Valley vineyards, restaurants and resorts are all within a 20-minute drive. Proximity to the New England Highway and the Hunter Expressway extension off the M1 freeway makes travel to major equestrian competitions in Sydney, Scone and Tamworth a breeze, while the vibrant city centre and coastal attractions of Newcastle are less than an hour away. Inspections by private appointment only. SMS 974Luskintyre to 0428 166 755 for
Explore Lambs Valley
Inspection times
Inspections are by appointment only.
Are you thinking of selling?
Kristy has sold 1 properties in Lambs Valley, in the last 12 months.
Kristy Resevsky
140 Reviews
1.1m Total Sales Value
River
Highly recommended
1

Recommendations in Lambs Valley

1

Sold properties in Lambs Valley

1.1m

Average sale price in Lambs Valley
Reviews for Kristy
Read the experiences vendors have shared selling their property.
Read all reviews
Review Kristy
Kristy was absolutely wonderful with her professional approach to selling my house. She is also a ve
13 Dutton Street, Metford, NSW, 2323
T
Tony & Michele(Vendor)
submitted 09 Apr 2022
Simply the Best!
Thank you Kristy for taking care of us throughout the sale of our home. Your advice, professionalism
2145 Clarence Town Road, Glen Oak, NSW, 2320
K
Kate Taylor(Vendor)
submitted 15 Mar 2022
Always sunny, always very professional, a pleasure to deal with
Kristy has sound market knowledge, she is always up to date. Her communication skills are second to
923E Paterson Rd, Woodville, NSW, 2321
V
Vendor
submitted 10 Mar 2022
Polished & Professional
Recently had the pleasure of selling my property with the help and knowledge of Kristy. She made th
4 Rosebank Dr, Wallalong, NSW, 2320
L
LauraWheeler(Vendor)
submitted 09 Mar 2022
Above and beyond
Kristy worked relentlessly to display and promote my home to perspective buyers. She definetly wen
21 Ralstons Road, Nelsons Plains, NSW, 2324
P
Peta & Geoffrey Byers(Vendor)
submitted 07 Mar 2022
Highly recommended and extremely professional
Kristy is a breath of fresh air when dealing with real estate agents. We found her to be extremely p
800 Fishers Hill Road, Torryburn, NSW, 2421